07 Dec

5 Ideation Lessons from Madonna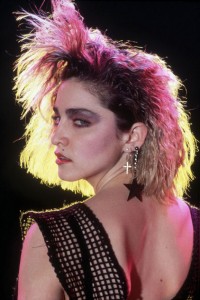 Madonna: a 50-something American record-breaking pop artist. You've definitely heard of her before, but what does she have to do with digital marketing and ideation?
Well, once you move beyond all the leather, lace and puffy white wedding dresses, there is actually a lot to learn from the sassy singer-songwriter. Particularly so when it comes to questions of ideation and social marketing strategy.
1. "All you need is your own imagination. So use it; that's what it's for." – Vogue (1990)
In order to generate influential ideas that best suit your particular marketing needs, you're going to need a lot of creativity. In what ways can you differentiate yourself from the competition? Really take the time to think about it.
This is not to say that your ideas must be grand, overstated proposals. They can be small or modest as well. It really depends on your brand and your specific objectives.
However, you are more likely to cut through the clutter with an original idea than with one that's been recycled over and over again. Whether you're emerging on the scene or you're already in the top spot, innovation is key. Differences attract attention.
Break the mold. Think outside of the box. Blaze a trail. Do something that's never been done before. Trust Madonna, you're going to need your imagination.
2. "Don't go for second best, baby… second best is never enough." – Express Yourself (1990)
Think about how you can position yourself as a leader in the space. Ideas for social marketing initiatives should reflect the quality of your brand. Your ideas should attract attention and help you stand out among the competition.
Don't just settle for second best. Constantly be researching and iterating to earn the top position. Set a goal, create a plan, accomplish the goal, repeat!
3. "Hey you, just be yourself." – Hey You (2009)
Be sure that your ideas and initiatives are aligned with your audience and brand objectives. Remain loyal to your offline brand while online and vice versa. Be authentic and approachable. If you try to appear as something that you're not, it will be noticeable and you'll probably get called out on it.
If you have to tell people your brand is genuine and authentic, you're doing something wrong. Be yourself instead of a corporate drone and the rest will follow.
4. "If they can't raise my interest, then I have to let them be." – Material Girl (1990)
When forming a strategy, think about how you can appeal to your audience in new and interesting ways. Remember, social marketing is all about people. So, give the people what they want.
Your strategies should be entertaining; they should produce emotion and spark conversation. For the best results, your initiatives should find a balance between making communications about people and product.
5. "It's not the game, it's how you play. And if I fall I get up again." – Over and Over (1984)
Not every idea is going to be a huge success. Don't be discouraged by a little trial and error. Try a variety of different ideas and strategies to find out what works best with your brand and your audience.
The failure is not in falling short, but in the inability to get back up. Dust yourself off, get creative and try, try again.