07 Jul

Which Social Media Platforms Are Right For You?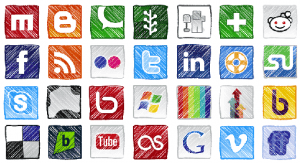 When it comes to choosing social media platforms, brands tend to gravitate towards the big four – Facebook, Twitter, LinkedIn and YouTube. Unfortunately, this decision is made without considering the brand's unique goals and the many other social media options out there.
Before you choose the social media platforms you want to work with, identify your goals for social marketing. From there, match your goals with the various platforms available to you for the best fit. Remember, different platforms have different benefits – Facebook and Twitter are not always the two best options. Consider your demographic as well. Where are they online and how do they interact?
Here are four common social marketing goals and the two best platforms to accomplish them with.
1. Brand Awareness
Brand awareness is an extremely common goal, especially for local and new brands. It is essentially the desire to get the brand's name and image in front of as many people as possible. After the name is established, the goal turns to maintaining a solid brand reputation.
Facebook – Facebook has a massive audience, making it the perfect platform to gain and maintain awareness. It allows you to post on other pages from your branded page and tag others in your status updates, which means you can gain awareness from relevant influencers.
YouTube – Did you know that YouTube is the second most popular search engine in the world? If someone is looking into your brand, they'll head to YouTube. Most people would rather watch a video than look at a picture or read copy, so use this to your advantage. Produce innovative videos that show your brand's culture and creativity.
2. Improved SEO
Improved search engine optimization (SEO) means increased visibility through an organic or unpaid process. Some SEO specialists build keyword lists and then write hundreds of articles to seed the search engines. Their articles then rank well with the search engines, which generates traffic to the articles and, eventually, traffic back to the promoted website. A new trend for SEO specialists is social marketing.
Flickr – Flickr is well indexed by search engines. In fact, it is part of Google's and Bing's social search project. If you link to a website from Flickr, it will pass the link and page rank. Flickr does very well organically, which means any content you upload to it will as well.
StumbleUpon–The audience for StumbleUpon has continued to grow in recent months. The large audience means your content could be viewed, and linked to, by thousands. If your content makes it to the front page of StumbleUpon, you'll have an even better chance at improved ranking. Both content and author profiles are well indexed by search engines.
3. New Traffic
This goal is fairly straightforward. It's simply the desire to have more people viewing a website. More specific goals range from "more targeted traffic" to "more repeat traffic". Targeted traffic includes people that are already interested, or are extremely likely to be interested, in a brand. Repeat traffic means an increase in the frequency people return to the website.
Digg – Digg is one of the most consistent platforms available. It is known for turning content viral. With tens of thousands of users, Digg makes sharing and gaining traffic easier than almost any other platform. If you're looking for new traffic, simply post content relevant to your brand and work to gain attention on Digg.
StumbleUpon –Much like Digg, StumbleUpon has a reputation for turning content viral. It is, however, noticeably less consistent than Digg. While great Digg content typically generates thousands of views, great StumbleUpon content could generate only a few hundred… or it could generate a few million!
4. Engagement
Engagement means interacting and developing relationships with consumers. It means developing content and messaging that attracts attention and encourages commenting. This goal should be important to every brand as pull marketing becomes more and more popular.
Twitter – Research shows that of all the social platforms, people turn to Twitter for customer service most often. Twitter is also one of the most popular "on the go" platforms, meaning many users have it connected to mobile devices for continuous use. If you're looking to connect, this is a great place to start. Third party tools like HootSuite make monitoring keywords and conversations easy.
Tumblr – Tumblr is gaining popularity at an exponential rate. In fact, it is the biggest competitor to the WordPress-style blog. The simple sharing options make it a great choice, but the question and answer function is what sets it apart. The function is perfect for providing customer support, which is a great way to begin a relationship. This year, all eyes are on Tumblr.