01 Jun

What's in a Community Manager?

They are most likely full of caffeine and buzzing around the office. As you know, social media has taken center stage in online marketing. Social networks and communities were once novelties to the Internet ad space, but they are now the primary source for product placement and customer interaction. Due to this growth in network marketing, there has been a significant change in the landscape of social media jobs, including the importance of certain roles. Specifically, the role of a community manager has really come into the limelight.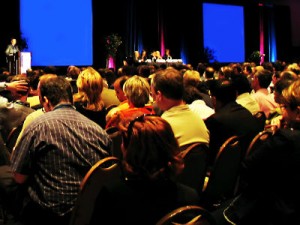 Community manager is a somewhat self-descriptive title. A community manager is an employee who manages the brand's various online communities and the company's direct links to customers. However, that typically isn't where their responsibilities end. A community manager has to act as a jack-of-all-trades within the company, which means taking on additional tasks that exist somewhere between human resources, public relations, research, and marketing. Their job is to not only manage the company's content, but the teams of employees charged with creating said content. When customers voice concerns, it's up to the community manager to track down the right people for the right answers.
So where does one find this heroic community manager, from within the company's current staff team or from an outside source like a marketing firm? There's no one answer that is right for every company, but there is a general consensus. Simply put, a community manager's job is a rigorous one. To load all of that responsibility on an existing employee who already has other tasks on their plate is a recipe for disaster. A half-focused manager is one that can let important responsibilities of the job slide. In that light, hiring a marketing company to handle a marketing job just makes sense, doesn't it?
Most marketing companies are essentially community managers for hire with the experience and know-how to tackle the formidable job. Keeping your brand's online content up-to-date and feedback relevant to customers is what marketing companies thrive on. Unlike a typical employee, a community manager must be active and monitor the brand's communities 24/7, which is the sort of dedicated personnel that marketing companies hire. Community managers are some of the most sought-after employees today, which only highlights how important the task is. Many community managers come from various positions such as: online community moderators, marketing veterans, public relations consultants, and IT specialists. Marketing companies put each candidate through a vetting process to ensure they are the absolute best fit for your brand. Once you have a quality-controlled team focused on your brand's online success, staying in tune with customers can be a breeze.
The best part about finding the right person or company to act as the community manager is that it allows peace of mind. A good manager will not only keep the brand sharp, but will encourage a sense of community amongst customers as well. In turn, this builds brand loyalty through authentic relationships and trust. Advertising isn't just about slick ad campaigns any longer. Instead, it's about having a genuine rapport with your customers, and evolving the products and services to suit their needs. It's a new landscape out there. Having the right people to navigate you will make all of the difference!