16 Aug

Portfolio: ContactMonkey – "The easiest way to share your contact information with others!"




As business continues to flourish and networking goes mobile, shouldn't your business card, and the way you exchange it, become more mobile-friendly as well? Say hello to ContactMonkey: a device-agnostic, cloud-based way to share you details with others.
Built out of frustration as a means to alleviate the stress of constantly entering new contacts into your address book, ContactMonkey is compatible with 19 different web/desktop based address books and will work on BlackBerry, Android, iOS and Windows Phone.
Engagement:
• Analyze various segments to introduce the platform and facilitate partnerships with vendors for launch.
• Development of Press Release, Press Kits, and other relevant launch materials.
• Seed press release out and gain relevant blog coverage to aid with organic growth and awareness.
• Design social platforms including: Twitter, Facebook Fan Gate and Facebook ads to drive awareness and conversion.
Press:
From the day we started our engagement with ContactMonkey, their presence became very well known online. See below a screen shot of some of the press we attained for ContactMonkey.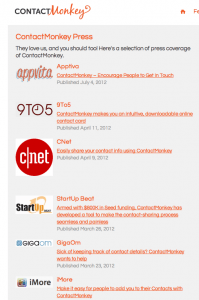 Click here to see the list in its entirety.