01 Jan

Portfolio: MacLeod Law Firm – Employment and Labour Lawyers
Summary
The MacLeod Law Firm specializes in labour law for both employers and employees. The lawyers at the firm have been providing employment law advice to employees for over twenty years. Whether providing Ontario employers with labour law advice or dealing with the matters of a workplace dispute, they provide complete legal solutions to business problems. They also help their clients understand the numerous obligations that are imposed on Ontario employers.
In launching the firm, Spark Boutik was approached to assist with the presentation of the firm's unique positioning. Servicing both employers & employees, it was important that these two audiences be kept separate. This meant that we must carefully optimize social platforms for engagement with two very distinct audiences.
Engagement:
• Develop strategies behind market positioning, website structure and social media engagement.
• Consult and optimize website design, website UI, blog integration, and inbound marketing processes.
• Manage Facebook Ads campaigns targeted to specific regions and various disciplines, resulting in increased social reach.
Website
In partnership with Nicole Kay Website Design + Development, the creation of MacLeod Law Firm's digital assets were brought to life.
With two core sides of the Firm, a professional landing page was designed to direct users to the appropriate selection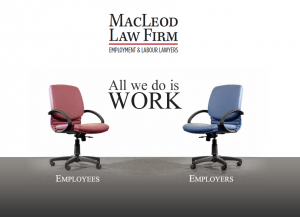 Boasting several components, a clean homepage design presents these in a manner where it doesn't appear cluttered

Call-to-Action of relevant information to aid in lead generation and inbound marketing
Video that welcomes visitors and introduces the firm
Most recent tweet is displayed to encourage 'Follows'
Monthly seminars are highlighted an users are directed to sign up
Blog panel encourages readership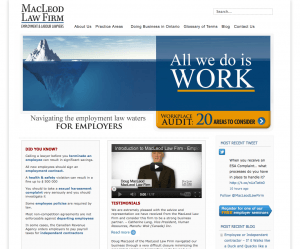 Internal of the blog page

Further CTA's provide users content that is relevant to them
Blogs are previewed to increase exposure and encourage readership
Subscribe function is utilized to build community and loyal client base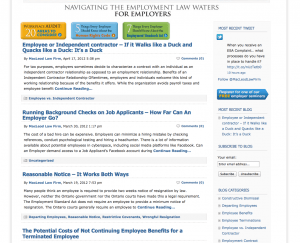 Video
Professional Video production allows potential Clients to gain confidence in the firm and personnel, while learning further of the services offered