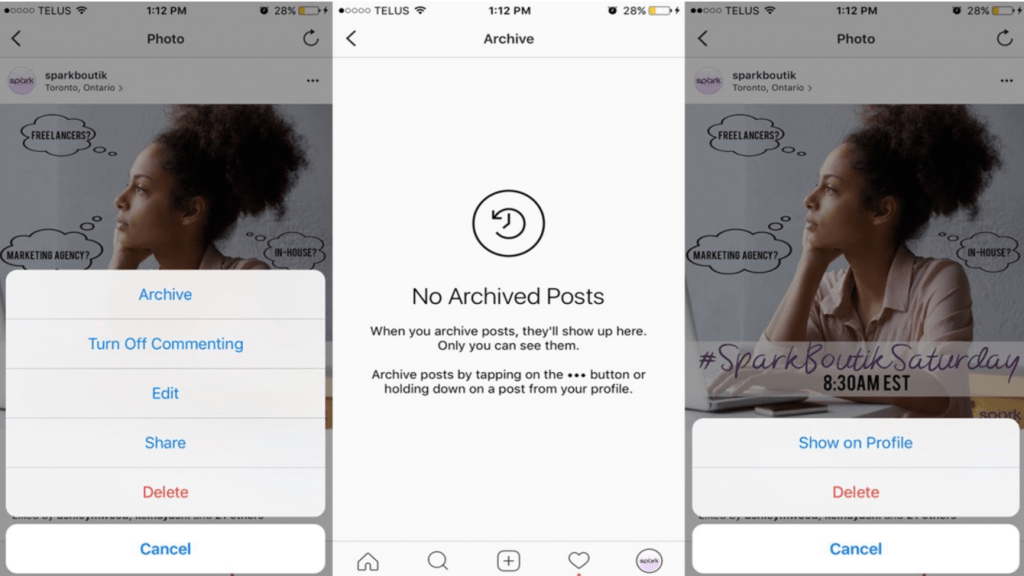 07 Oct

Instagram's Most Underutilized Feature
Finally—a place to put your no longer relevant photos on your profile without fully deleting them. Instagram's archive feature allows you to hide your photos from your feed and bring them back at anytime.
Although this feature has been out since June 13th, 2017, it's lack of visibility may be the reason you haven't started utilizing the smart feature in your content managing . Often times businesses run temporary promotions or contests that can impact their feed's aesthetic and clutter their brand message. The archiving tool is the most practical way to help maintain your feed's sleek theme while providing your followers timely posts that prompt high engagement.
In the past if you did not like the way a post made your business' feed appear, you had only one option: delete. Now, if you are unsure about a post archiving allows for you to change your mind without losing likes, comments or follows.
How Does It Work
To archive a photo, click on the ellipsis located on the top right hand corner of your Instagram feed. Select the Archive option to move your post to the separate archive section of your feed; here you can see all past archived posts. To retrieve the photos, click on the clock/arrow button in the right hand corner of your profile. Click on "Show On Profile" at any point to have the photo appear on your feed again.
This tool can be very helpful when promoting Instagram takeovers or specific promotions. Deleting all posts pertaining to the promotion can be time consuming. By archiving, your business can track how a contest or promotion performed and better future initiatives.
---
Need help taking advantage of all that the Instagram application has to offer? Contact Spark Boutik team today.