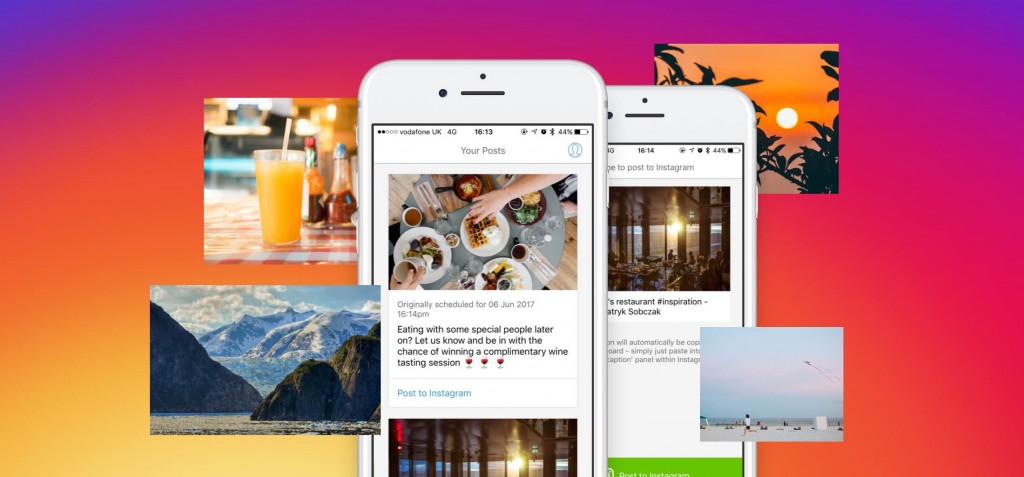 13 Dec

Instagram Scheduling Applications: Are they worth it?
 Social platform planning applications have not made it easy (or affordable) to schedule to Instagram in advance. Is it more valuable for your small business to post manually everyday to Instagram or purchase a subscription to an automated planning app? When making this decision for your business, weighing the pros and cons of automated applications versus personal tactics will determine the best choice for your marketing strategy.
There's an ongoing debate about the use of Instagram scheduling applications and their worth. Automation applications have been the buzz of 2017, with the all-in-one Hootsuite application or apps like Buffer, Latergram, Preview and Instagress. Saving time and money where you can is essential as a small business, but sometimes that means sacrificing quality.
Scheduling applications have a detrimental impact on your Instagram account's authenticity and reach. Thus far scheduling applications are limited thus no immediate direct messaging, meaningful responses to comments or concerns and a limited amount of social listening. For this reason, Instagram does not let outside scheduling applications to post directly on your Instagram profile.
Instagram is one of the most interactive social media platforms on the market and in order to maintain this quality, all scheduling applications are not direct to the platform. There is still the need to click "post" and add your hashtags, location and tagging manually.
We've laid out the top Instagram scheduling applications and their limitations.
Buffer is an application that will help you plan and track your Instagram posts, but will not physically post on the Instagram app for you. The closest that you'll get to posting on Instagram with this application is setting up a reminder for the time that the post should be uploaded. Buffer will send your picture and caption to your Instagram app at the time that you should post and you can add hashtags to your comment section, location and upload.
Later allows you to upload and schedule your Instagram posts visually from your computer or mobile phone, search and repost other Instagram content and manage multiple accounts. The only thing Later can't do is directly upload your post (as that once again conflicts with the terms and services of Instagram). Later can cost up to $49 per month when connecting three platforms or you can try it for free by only connecting one platform.
Preview is an application that shows you what your profile looks like once you've uploaded all of the photos that you've scheduled. Preview allows you to rearrange the pictures in the places that look best on your feed and fit your branding. Using this application you're also able to edit your photos by changing filters, colours and lighting. Once you've perfected your feed and edited your photos to your exact specifications you can create a caption and save hashtags and much like Buffer, you will receive a notification when it's time for you to manually post.  
HooperHQ has been one of the first Instagram scheduling applications that is able to post directly onto Instagram without a prompt and without violating the terms and conditions of Instagram. HooperHQ allows you to create, plan, schedule and post to Instagram automatically. Although this is the first Instagram scheduling application to be able to post directly to Instagram, it does not come without a high cost associated. HooperHQ is $20 a month for just one account.
With all the limitations of these scheduling applications, the Spark Boutik team believes in directly managing our clients accounts to ensure your brand's authenticity. Other than HooperHQ, all these scheduling applications still require you to enter the app to post and charge you for a "post reminder" that could easily be set up using one's own phone. The power of Instagram is not in its posting but in its ability to connect with potential clients. By removing yourself from doing so, you lose the power of these unique marketing tools.
---
If you need help integrating your social media content into your marketing strategy, contact us today.