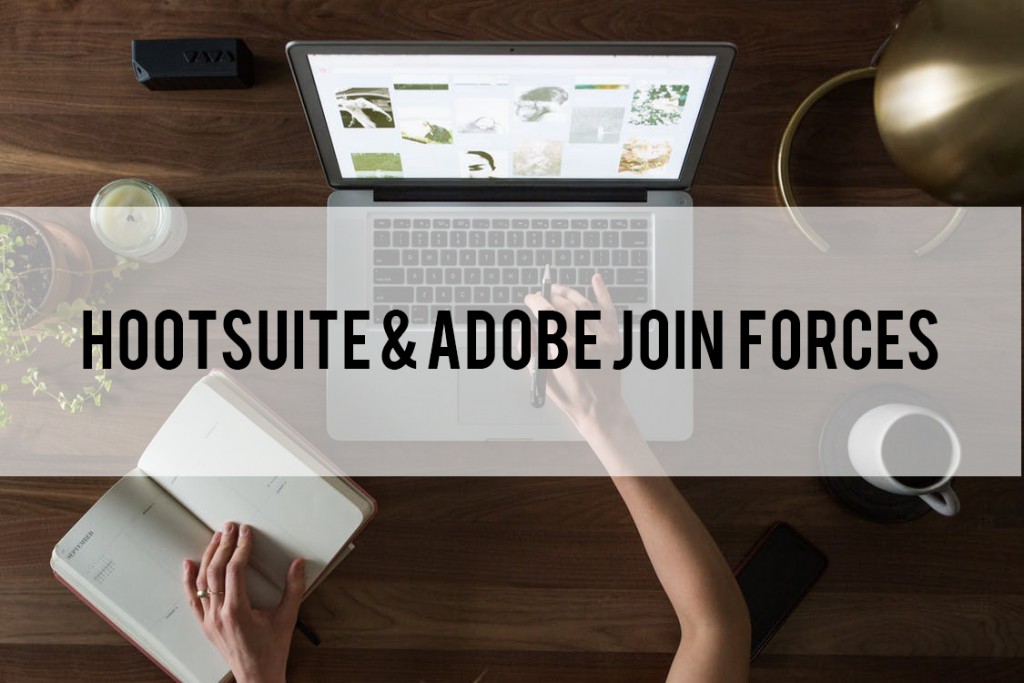 25 Aug

Hootsuite and Adobe Join Forces
Digital marketing requires many creative programs and applications that are often entirely separate from one another. Switching back and forth to utilize the top benefits of each program to achieve the optimal results can be extremely time-consuming. Luckily, the life of a marketer got just a little bit easier this week as two essential digital marketing applications, Adobe and HootSuite, have joined forces. Creative content can now be created and distributed through your social media platforms in one convenient place
—the HootSuite dashboard.
On August 22nd, 2017, HootSuite announced their integration with Adobe Creative Cloud and Adobe Stock. This collaboration will allow your team to create custom content with Adobe stock images, tailor them with graphic designing and video editing, and give the ability to post/schedule the content directly from HootSuite. By leveraging this new collaboration, the important aspects of creating and planning your digital marketing content will be streamlined improving efficiency, community engagement, and managing analytics.
As the leader in creative content, Adobe is perfectly suited with the leader in social media management, HootSuite and its 15 million users. This partnership will easily extend to over 15 million people and 800+ Fortune 1000 companies.
How Do We Utilize This Adobe x HootSuite Collaboration?
If you are currently an Adobe Creative Cloud subscriber you will have access to over 90 million high-quality creative assets and you will be able to search and license assets inside HootSuite. It has not been announced if HootSuite users will be able to access Adobe assets without an Adobe Creative Cloud subscription.
HootSuite?
For those who are not familiar with the Hootsuite dashboard, it's a universal social media management tool that allows you to manage and leverage all of your social networks on one dashboard. This includes scheduling, posting and engaging with content on multiple platforms like Facebook, Twitter, LinkedIn, Instagram, and WordPress, and all from one place—HootSuite.
Adobe Creative Cloud?
In contrast, Adobe Creative Cloud is a downloadable software that can be used on multiple devices, including smartphones, that gives users access to a collection of software that was developed by Adobe. Adobe applications are ideal for anyone in the line of work that involves graphic design, web development, photo/video editing and the need for remote sharing of large creative files.
It comes as no surprise that combining both of these advanced, innovative digital marketing tools will not only help the efficiency of your business leading to developing leads or your business as a whole, but also the caliber of your content.