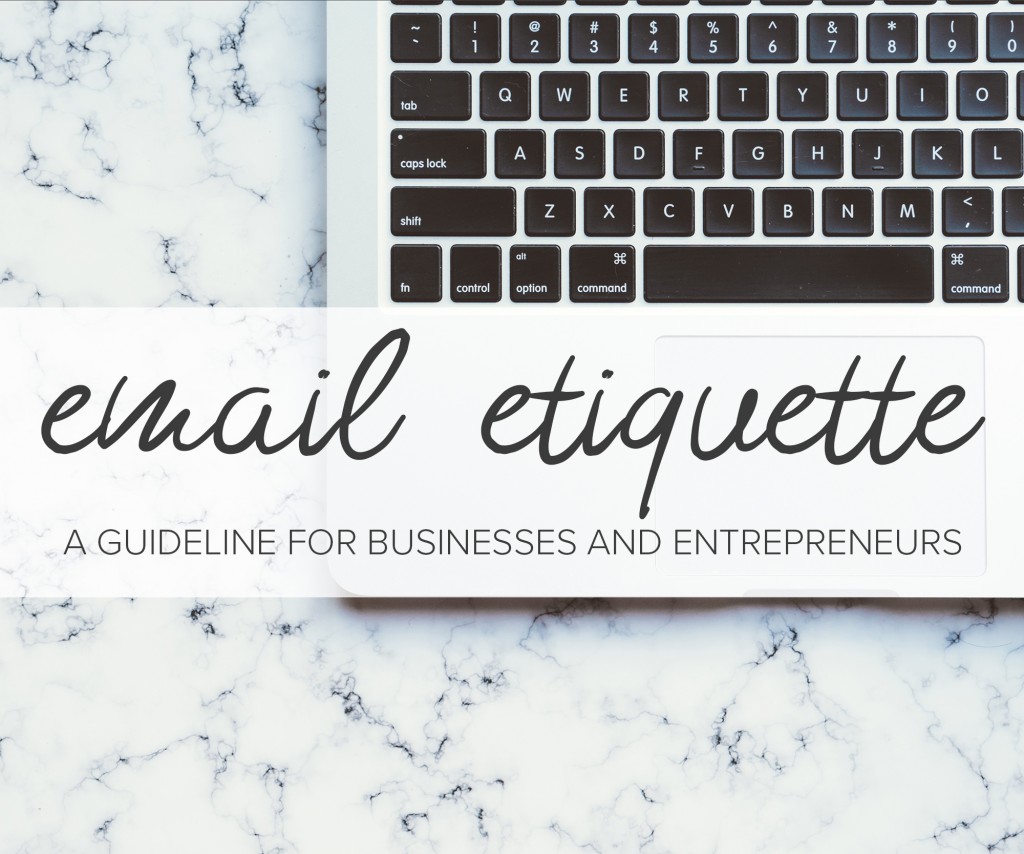 18 Oct

Email Etiquette 101
It's the digital world
—
there is an increase in individuals working remotely which results in the majority of business not conducted in person. Finding a balance between being both personable and professional through business emails, Skype calls and even texts can be difficult. Unlike an in-person meeting, much of the interaction's tone is based on the words chosen and how things are phrased. Follow these simple guidelines to maintain your business' professionalism no matter the type of communication.
Although email allows for faster communication and increased productivity. It comes with more rules and regulations than a phone call or face-to-face meeting. Without that human interaction, there's room for miscommunication that can result in serious business errors. Despite this negative trait, email has earned itself the title of the number one form of communication within the business world. It's expected that the use of email for business will continue to increase resulting in approximately 132 billion business emails sent per day by the end of 2017. It is always important but especially as a new business to establish email etiquette among your staff or anyone representing your brand via emails. Incorporate the following guidelines in your business' email etiquette.
1) Maintain Formality
Imagine each email you send is on your company's letterhead and posted on the public staff board. This is the level to which you should hold your standards for all emails. We love the digital world for its efficiency and ability to allow us to collaborate worldwide, but it means everything is traceable and lives forever. A wrong response will never be forgotten and could be used to damage your business' reputation. Proper sentence structure, punctuation and clarity are all important aspects of forming a formal email. Unless otherwise established, always address your email recipient with their full formal business name. This shows respect and allows the email recipient the option whether to introduce an informal or first name email relationship. A high level of formality attest to your respect for your own company and take the relationship between the email recipient and yourself seriously.
2) Be Personable
The same way you would greet someone by asking how they're doing, be sure to start your emails with a greeting and positive parting. As much as possible tailor your greetings/goodbyes to the specific person you're emailing. For example, if you're responding to a client who has recently been on vacation. Acknowledge that and say something on the lines of "I hope you had a wonderful much-deserved vacation." Or if you're conducting a cold reach with a new client or company include specific information about what attracted you/your company to them/theirs. By adding a human touch to the technological act, you are more likely to receive a prompt response.
3) Read, Reread, and Reread Again
Grammar and spelling can make or break emails. Whether you're reaching out to a company for the first time or responding to a seasoned client.  Always ensure you've reread your email…at least twice! Although this may seem like a waste of time within your busy schedule, it shows the email recipient you thought and care about your response and by extension them/their business. With tool such as spell check and sophisticated software like Grammarly, there's no excuse for spelling/grammar mistakes other than laziness. Simple mistakes within your email body can come off unprofessional and give you the appearance of being less capable or detail oriented. Do not rely on your spell checking tools! Words are often autocorrected to the wrong word and sentence flow should still be manually monitored. Often when re-reading you will be able to phrase sentences in a better or more efficient way to avoid miscommunication.  
4) Descriptive Subject Lines
It's usually an afterthought, but the subject line of your email is arguably the most important. It is your first impression to your email recipient and becomes a tool for searching. Keep your subject line directly to the point and include punctuation (such as a dash or semicolon) to help with readability and searching. Only use words in your subject line that are absolutely necessary; the more concise, the better. Give your email recipient an expectation of your email body within the subject. It shows a level of respect for their time and will provide them the ability to easily search and reference the email months down the road (as we learned emails are forever).
5) Craft Your Signature
Your automatic signature can save you a ton of time when crafting emails. Ensure you signature includes your full name, formal title, company name, a telephone number you can be reached at, and your company's social media handles plus website. Give your recipient emails an exact snapshot of who you are and resources to find out more information. Much like your automatic signature, it is common courtesy to craft an automatic "out of office" reply if you will be away from your email longer than two days. This will ensure anyone who has emailed you doesn't feel neglected or as their email is being ignored.
6) Simply Reply
With hundreds or emails rolling in per week, it may seem like an overwhelming task to answer every email but this gesture goes a long way. It proves you are reliable and truly care. If an email is simply a thank you or a call summery. Your response (because unexpected or in the emails sender's eye unnecessary) can help build that personal connection. Responding to email inquiries or comments can help open future opportunities and will leave a lasting impression. With weekends being quieter on business emails, this is a usually a good time to catch up and filter through any unanswered email threads. Prepare for the week ahead and start with a fresh inbox.
Over time you will develop your own tone and style for your emails. Mental email templates will become ingrained in your process which will help you become more efficient. Use these simple guidelines as a base standard to help you tackle your noisy inbox like the professional you are.
---
For more information on how the Spark Boutik team can help guide your business to success, contact us today.