01 Jan

Portfolio: Elliott & Elliott Barristers & Solicitors
Summary
Elliott & Elliott is a newly established law firm eager to serve Barrie and the surrounding area. Shari's combined real estate and environmental expertise distinguishes her from more general real estate practitioners. She has a proficiency that comes from over ten years of experience, including five years as a member of the environmental group at Osler, Hoskin & Harcourt.
In launching their new firm, and learning of work Spark Boutik had done with their colleagues, Elliott & Elliott turned to us to build and shape their online presence. Working with our custom 'Social Media for Professionals' program, Elliott & Elliott are amidst the program's workings and already realizing an increase in lead generation.
Engagement:
• Optimization and re-design of a static HTML site, to enhance opportunities for content marketing.
• Creation of various platforms ranging from social media to email marketing.
• Training and educating the staff of best practices, routines, and tactics to continually execute the strategies that were formulated.
Website
Spark Boutik was engaged to help optimize Elliott & Elliott's current website, allowing for improvements in content marketing, social media, newsletter signup & distribution, and calls-to-action.  Below are screenshots as we compare the BEFORE and AFTER.
#1 – Homepage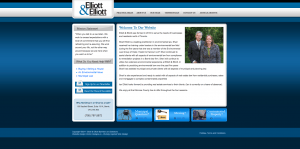 Overall design improvements
Site navigation optimization
Social Media integration
Dynamic content brought to the forefront
Addition of Newsletter sign-up form
Media player to showcase 'Practice Areas'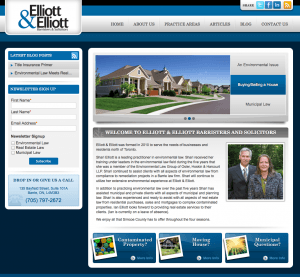 #2 – About Us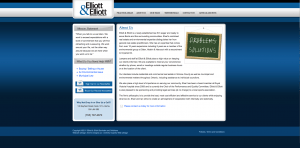 Dynamic content remains on internal pages
Redesign of internal pages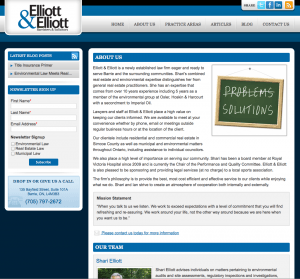 #3 – Our Team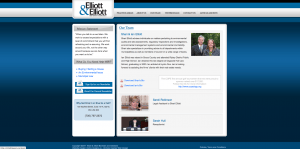 Relevant pages combined to improve user experience
Alignment of team members and profiles
Elaborate Bios for principles
Testimonials pulled with relevant pages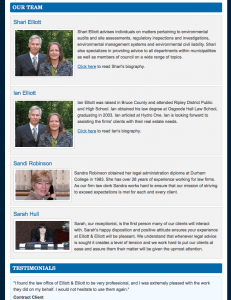 Principles' Bios appears in a 'lightbox' to enhance dedicated attention
Direct contact information listed to achieve a more personal culture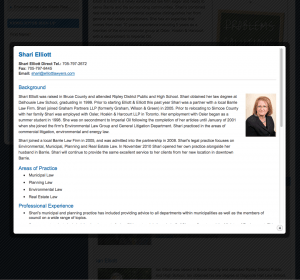 #4 – Environmental Law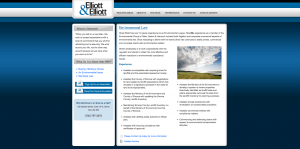 Improved presentation of copy to achieve better readability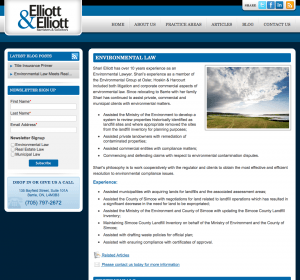 #5 – Real Estate Law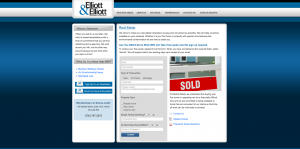 FAQ's moved from standard PDF download to a dynamic interface
Optimized inquiry forms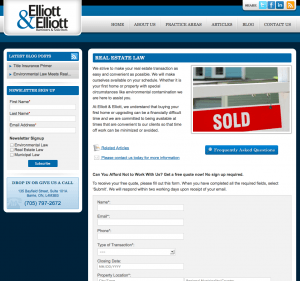 Testimonials pulled with relevant pages
Industry plug-ins to enhance services offered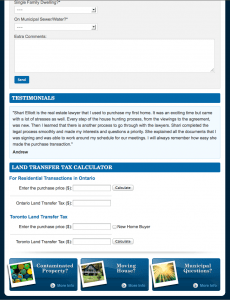 FAQ cont'd – User is provided an interactive way to discover answers to popular inquiries
Helps improve consumer confidence that the professional is knowledgable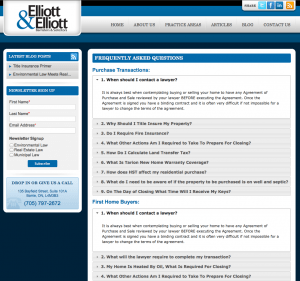 #6 – Testimonials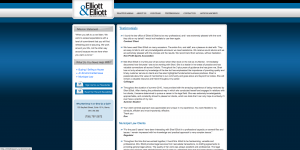 Rather than a stream of unorganized testimonials, presented in a manner where the reader is exposed to cases relevant to their needs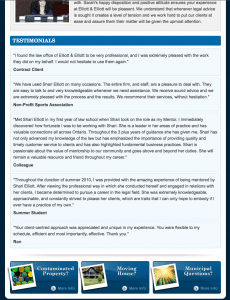 #7 – Articles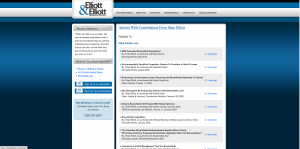 Archived Articles & newsletters organized relevant to type, improving the experience to find resources
#8 – Blog Integration
'Content Management System' allows content to be updated more frequently
Contact Marketing aids in

Organic SEO
Share functions to promote among Social Media
Comments encourage discussion
Provides a destination and information for inbound traffic
Helps establish Professionals as a trusted expert and builds Client's confidence