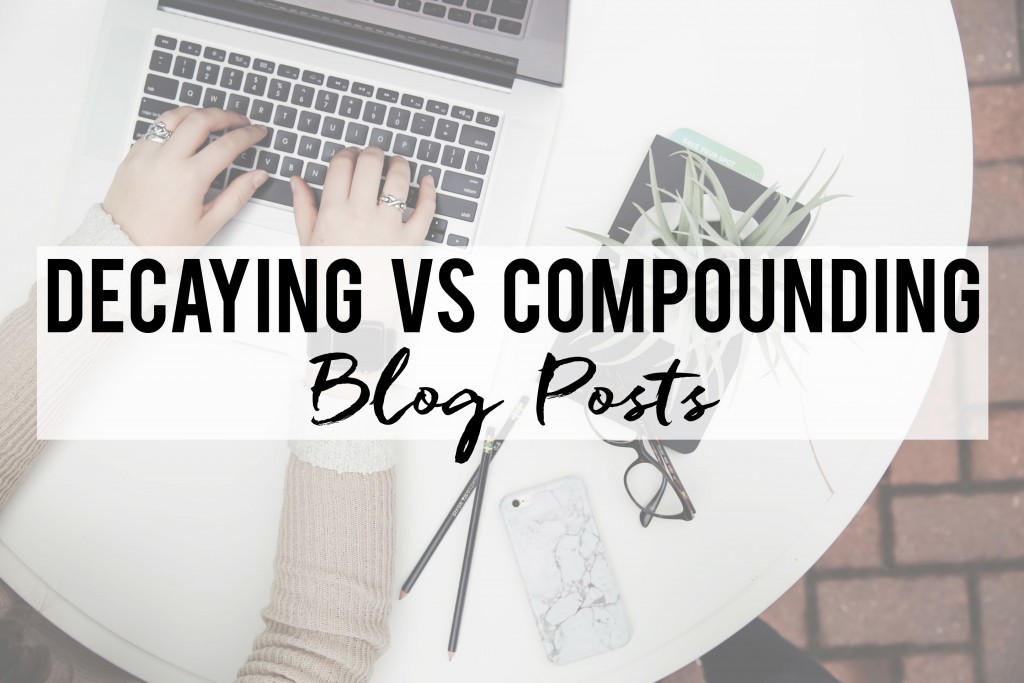 14 Jun

Decaying VS Compounding Blog Posts
Compounding Blog Posts: Let one blog post drive traffic to your site again and again.
Most businesses know that to maintain a strong online presence and build brand awareness, you need to blog. Establishing yourself as an expert in your field and providing your community with valuable information is an essential part of generating ROI. Blogging is also an essential way to establish and maintain your SEO rankings.
The benefits of blogging are undeniable, but as it is an admittedly time consuming task, it can quite often become difficult to remain consistent in your blogging efforts. With this in mind, compounding blog posts are the most efficient way to maintain website traffic, as they continue attracting new traffic over time. Decaying blog posts are often timely (reflective of current events or technology) and have the highest spike in traffic immediately upon posting but then decay rapidly.
After analyzing some of the most successful blogs of today, HubSpot determined one in ten blog posts should be compounding. Over its lifetime, one compounding post creates as much web traffic as six decaying posts.So why not just post compounding blog posts? Current events are still important and will still generate traffic. According to a HubSpot study, compounding blog posts are responsible 38 per cent of your blogs traffic despite being less frequent. In fact, twenty-two months past its original publishing date, a compounding blog posts can attract 3.4 times many visits a decaying blog post published the same day.
How to Write a Compounding Blog Post
1. Think tactical, not topical.
By broadening your topic you can attract a lot more readers than any niche topic. Think about what topics or questions people are searching for within your industry. For example if I am a marketing blogger, instead of covering a new feature that Instagram recently released, I can write: Why your business needs Instagram. Don't give your compounding blog post an expiry date— think general.
2. The perfect title.
The best compounding blog posts titles have 6 to 13 words and include authoritative words such as: how, why, best and what. Before determining your blog title, search your topic. Let these top search results drive your title.
The following are HubSpot's tips for how to choose the right approach to your compounding blog post:
Answering a question by defining an idea or product: What is xyz?
Breaking down a number of options using reviews, feature comparisons, and/or prices: Which is better?, What is best?, Or x versus y?
Advising readers on how to accomplish something: How to do xyz.
Offering a definitive answer on something: The best way to do x.
Pointing out elements to consider when making a choice: Be aware of xyz when considering abc.
Thinking about these title options will also help you determine your blog topics. Each blog should answer a common question your business or brand often receives from its customers.
3. Readability of post.
Not only will your SEO ranking be dependent on the readability of your post, but so is the post's success! Try to keep the length of your posts between 800 and 1400 words. If the post is too short, you'll have less time to pull keywords for SEO purposes and you'll be unable to satisfy the question of your reader. However, if the post is too long, they may lose interest before they even begin reading, so use bullet points and subheadings to break up ideas. This makes it easier for your reader to decide which parts of the post are most important to them. Also ensure you provide graphics and images to help your reader understand the topic and also to help your compounding blog posts be visually appealing.
Remember that compounding blog posts aren't guaranteed. You will need to push potential compounding blog posts to your social media platforms with a variety of different approaches. Ensure you include specific head keywords along with long tail keywords that comprise 70% of search traffic.
Ultimately, consistency is important but rather than posting filler blog posts, spend time writing proper blog posts with the potential to be compounding. By attracting clicks and leads over a span of months rather than days, these blog posts provide a better long-term return on investment. Compounding blog posts give businesses and brands the opportunity to become experts and thought leaders in their industry. Follow these three steps for your next blog post, and watch your website traffic reap the rewards.
And yes, this is a compounding blog post.
Save
Save
Save
Save
Save
Save
Save