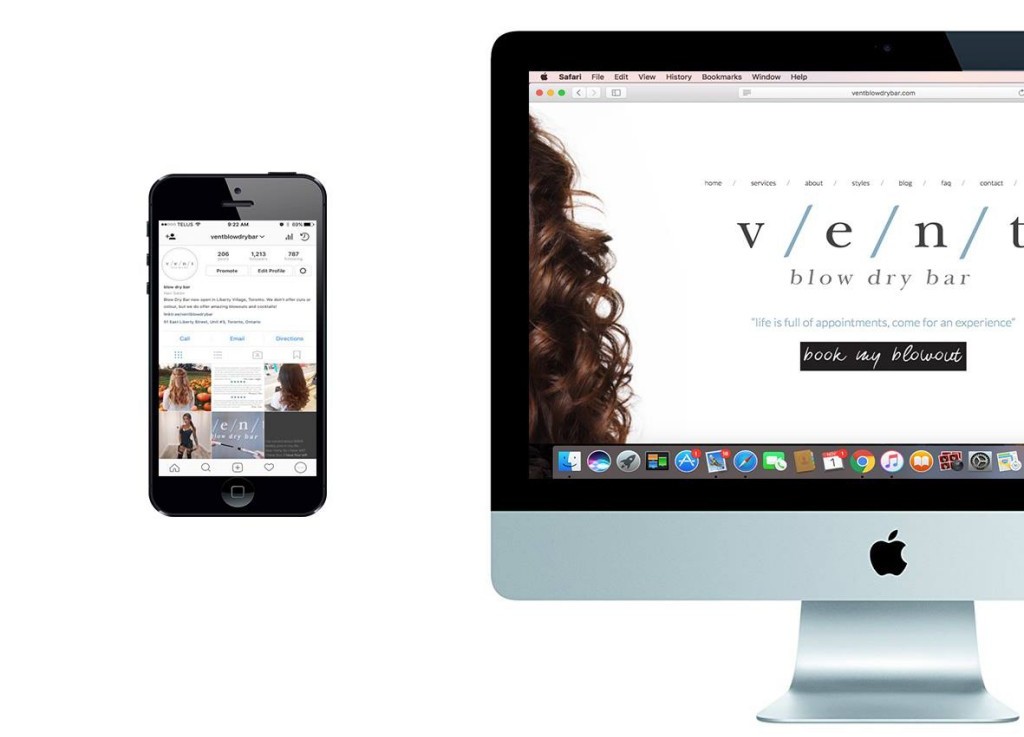 02 Nov

Client Corner: Vent Blow Dry Bar
Leaving the security of her career of almost two decades behind. Natalie James risked everything to pursue her dream of empowering other women to feel confident and do great things.
Natalie James first connected with Spark Boutik in early June 2017. After many discussions of brand vision and overall business goals. Our two companies were a match. The Spark Boutik team immediately had respect for her brand and business planning and were honoured to be trusted with bringing her vision to life online.
Vent Blow Dry Bar
Vent Blow Dry Bar is a Toronto-based blowout bar specializing in beautiful styles and cocktails. From the Italian, chic chairs surrounding the white marble bar, to the revolutionary products and Dyson Supersonic hair dryers. Vent Blow Dry Bar is the ultimate place catch up with friends. From bridal showers, to birthdays or simply a Tuesday pick-me-up. Vent Blow Dry Bar provides the perfect atmosphere to vent with friends and partake in well-deserved self care.
"If you're going to be sitting in a salon for an hour – you deserve to sit in a luxurious one where you can enjoy a glass of wine and de-stress," write Natalie in a recent blog post. "I truly feel that as women we work hard and deserve to be pampered!"
Natalie's goal for Vent Blow Dry Bar is evident in the company's tagline: life is full of appointments, come for the experience. Natalie and her entire team of stylists ensure each client has an experience they will never forget. The goal of blowouts at Vent is not to simply wash and style hair but rather, slow down with the hecticness of life and connect with friends much like they did in salons of the past.
Notable Startup 2017 Nominated
Throughout the setbacks and learning curves, Natalie has handled herself and Vent Blow Dry Bar with professionalism and grace. Inspired by other entrepreneurs, Natalie hopes to share her learnings with others.
"Start with a well researched business plan and be sure to ask yourself the tough questions. Often people don't want to focus on the negative, but in doing this it forces you to look at your potential weaknesses and devise strategies to successfully navigate them. Problems will not doubt arise (delays, setbacks and more). Having a well thought out plan will help to get through them. A well researched plan will not only help you to secure financing, but it will also help to keep you on track to ensure your vision is never compromised," stated Natalie in a recent Notable article.
Vent Blow Dry Bar is one of five other startups nominated for Notable Startup of Year 2017. Nominated by others in the industry as well as clients. This honour is great appreciated by Natalie and the entire Spark Boutik team. From now until November 15th, you can help Vent Blow Dry Bar by voting here.
Natalie's business plan and brand awareness has been a joy to work with thus far. With Natalie's dedicated involvement, Spark Boutik executes Vent Blow Dry Bar's social media platforms, community engagement, website and blog, email marketing, influencer outreach and collaborations.
It has been an honour to support Vent Blow Dry Bar through construction days, the grand opening, and now, the third month of business. Congratulations Natalie and Vent Blow Dry Bar on all your achievements. The entire Spark Boutik team looks forward to supporting you in your continued success.