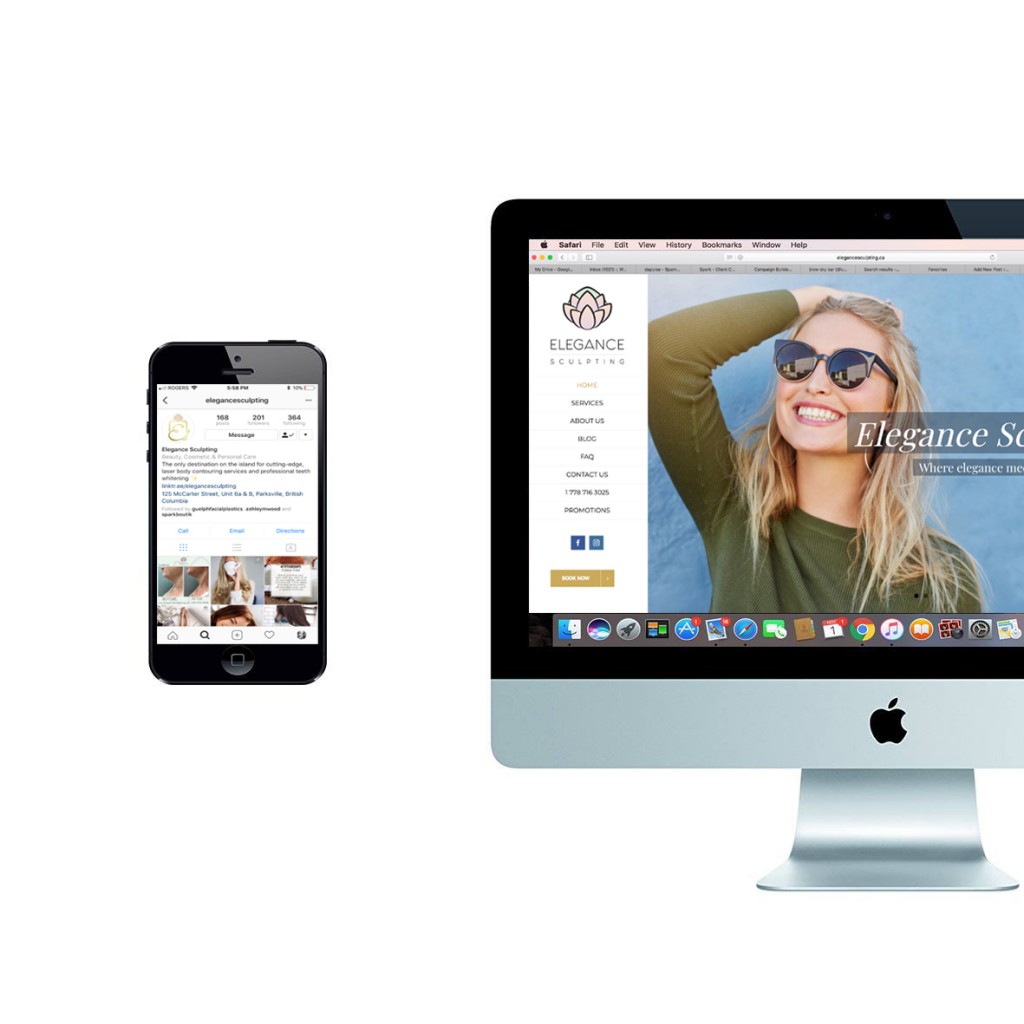 10 Nov

Client Corner: Elegance Sculpting
Ready to finally fulfill a lifelong entrepreneurial dream, Rachel Bentley began planning a space for women of her Parksville, BC community to rejuvenate and gain confidence.
Early May 2017, Elegance Sculpting and Spark Boutik came together to discuss Rachel's vision for a spa in Parksville, Bc. With her clear goals and brand concept, the meeting inspired logo creation, brand voice and truly unique content.
"From the beginning I have loved the passion that the team has towards creating and bringing my ideas and visions to life. Especially being long distance and corresponding through the internet," said Rachel. "Being that we are so far away I was extremely impressed with how well Spark Boutik captured and created my brand."
Full Body Service Spa
Starting with a handful of services such as body contouring, cellulite reduction and teeth whitening, Rachel has now expanded Elegance Sculpting into a full-body service spa. The variety of treatments encourage women to feel capable and fearless confidence everyday. With the recent inclusion of Syneron Candela's Elos Plus multi-application system, and a line of elite skincare products from iconic brand Payot Paris, Elegance Sculpting is excited to continue serving the women of Parksville.
After gaining a degree in hospitality management. Rachel spent 10 years working in the field before pursuing her passion of helping others. Rachel then became a paramedic and held this role for five years. Throughout this time she never gave up on her dream to someday own her own business and later continued her education with an Occupational Health and Safety Diploma. With her education and drive she launched her career into the medical aesthetics industry.
"Starting a new business is the most exciting, terrifying experience of my life," said Rachel. "Starting a new business based on clients is a high risk investment. You have to remind yourself that things don't happen overnight. There will be lots of hard times and great times."
Elegance Sculpting
Rachel came to Spark with a business name and a vision a sophisticated and elegant medical spa. We've had the privilege of building Elegance Sculpting entire online presence. From logo design to email marketing and social media mangement. We are honoured to support Rachel throughout the brand building process. The Spark Boutik team truly believes in Rachel's vision to empower women and inspire confidence. Elegance Sculpting is the only medical spa of its kind on Vancouver Island.
Looking forward to 2018, we're eager to continue working with and supporting Rachel and Elegance Sculpting in her bright endeavors. As she expands into a larger space on the island and adds additional services. The team couldn't be prouder. 
"I love how the Spark Boutik team get just as excited over the little things and new ideas as I do," said Rachel. " It's most important to surround yourself with supportive people and be true to your vision."