10 Sep

Canada had 24.7 million wireless subscribers by the end of 2011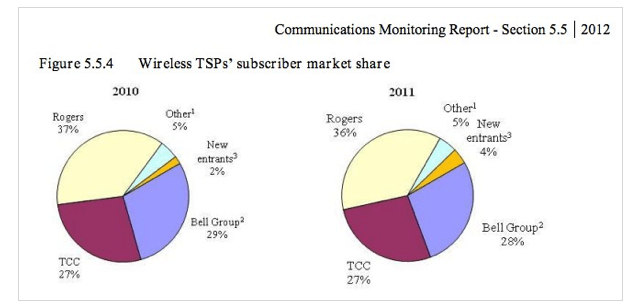 In case you had any worry at all that the wireless industry in Canada was showing signs of slowdown, think again. As it turns out, overall subscribers are up 6% over 2010, according to the CRTC. Jean-Pierre Blais, Chairman of the CRTC, stated "this report is used to gauge whether the communications industry is meeting the needs of Canadians as consumers, citizens and creators."
According to the report, the number of wireless subscribers in Canada now sits at 27.4 million, up 6% from last year and representing 78.2% of households. As for subscribers, the CRTC says that the new entrants (WIND, Mobilicity, Public Mobile, Videotron) have captured approximately 4% of wireless subscribers and 2% of revenues in 2011." Take the 4% of 27.4 million and you have 1,096,000.
Other notable stats from this study:
 Networks cover approx. 20% of Canada's geographic area and is available to 99% of Canadians
 LTE network is available to approximately 45% of Canadians
 Rogers had 36% wireless market share, followed by Bell at 28% and TELUS at 27%
 Texting is still the most popular activity for smartphone owners, followed by accessing the web
 Tablet usage is sitting around 10%
Mobile in Canada is booming as consumers begin to grasp the concept of being able to "disconnect from the desktop". With the popularity of "unlimited data" and tablets, consumers are feeling more comfortable with consuming data on the go – and that's exactly how the carriers want it. What device do you use? Sound off in the comments below and let us know!
See the full report via the CRTC here