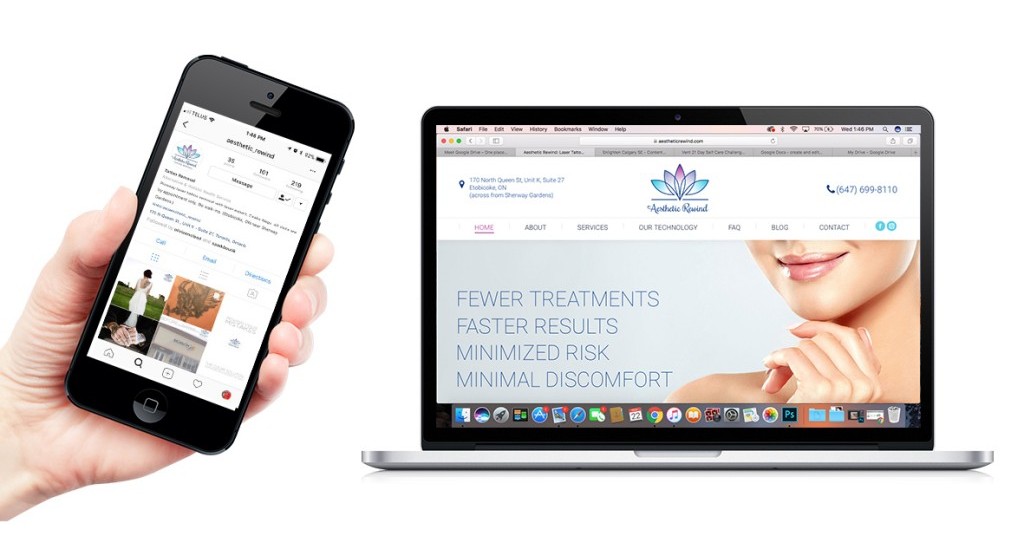 05 Dec

Client Corner: Aesthetic Rewind
After his career in medical device development, Csaba Nagy wanted to have a positive and personal impact on other's lives. When a chance opportunity opened Csaba's eyes to the world of tattoo removal, Aesthetic Rewind was born.
Csaba first reached out to Spark Boutik in the early stages of his new business venture, a full service tattoo removal clinic, Aesthetic Rewind. As a brand new business, there were a plethora of needs to be fulfilled. After the Spark Boutik team and Csaba worked through his unique brand idea and business goals, it was clear our two companies could achieve great things together.
Catering to a growing demographic of those with tattoo regret, Aesthetic Rewind offers safe and effective tattoo removal with the world's most sophisticated laser technology. Using Syneron Candela's advanced PicoWay laser, Csaba ensures unwanted ink is safely and effectively removed in safe and efficient treatments. With plans to expand his services to include Holographic Fractional Skin Rejuvenation of pigmented lesions, Aesthetic Rewind strives to offer comfortable services in a friendly environment.
While pursuing a medical degree at McGill University, Csaba felt working in hospitals was not his calling but still wanted to have a positive impact on people's lives through his acquired skills. The tattoo removal industry offered the opportunity for Csaba and he went on to acquire a Laser Tech Diploma as well as additional training from the International Laser Academy.
Spark has had the pleasure of aiding Csaba and Aesthetic Rewind on all aspects of branding. From logo and website design; to online content creation and optimization; to the growth of several social media communities; our positive partnership has resulted in the creation of a successful brand identity and voice.
"During the chaotic launch of my business, Spark worked tirelessly to help me achieve an ambitious launch schedule," says Csaba. "They let me focus on the details of running my business and as a result quickly earned my confidence."
Looking forward, the Spark Boutik team is thrilled to continue working with Csaba and on expanding the Aesthetic Rewind brand. We have been honoured to work with and for Csaba during his exciting venture into the world of medical aesthetics. We wish him much success in the new year.