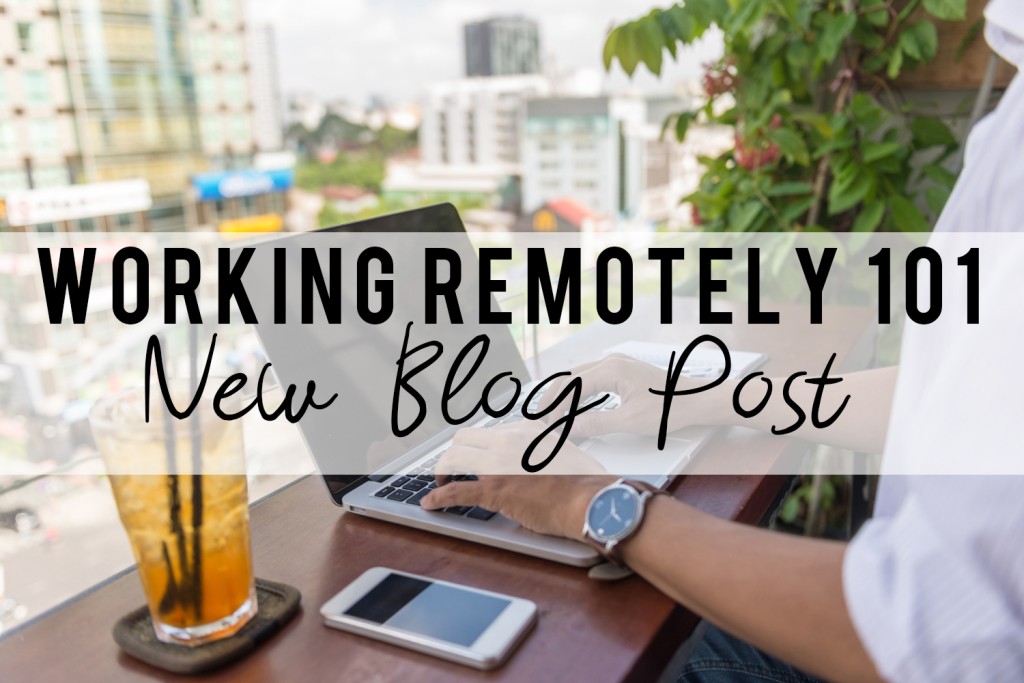 31 Aug

5 Tips for Working Remotely
As of 2008, over 1.8 million people in Canada worked from home. In the U.S., that number is now as high as 3 million, with an astounding 30 million working remotely at least one day a week. As technology advances, and our world becomes smaller and smaller, it is becoming easier than ever to stay connected. Employers of all business sizes are utilizing this and opting for telecommuting.
Working Remotely: Is It Worth It?
Being able to work from home is a great privilege, but can also be a great challenge. Although there are wonderful benefits, such as no commuting and more flexibility with hours, it also requires some adjusting and major planning (especially if you've only ever known work in a 9-5 office). However, the good news is, you are not alone.
As of 2008, Statistics Canada reported that 1.8 million paid employees worked via telecommunication. This is up from just 1.4 million in 2000. As technology pushes forward, so does the number of individuals working remotely. If you are thinking about working from home (or are already in this position), we've put together five tips to help you stay motivated and productive while working remotely.
1) Set daily goals and create a schedule
Before you begin working each day or each week, prioritize your tasks into a physical list. This list may change as the day goes on, but having the guideline will help you be accountable and create a sense of urgency. Checking off this list as the day goes on also helps to give you a sense of accomplishment.
You can also create a schedule for the day to keep you on track, hour by hour. This is especially helpful if you have appointments or meetings throughout the day and want to fit in work in between. It alleviates the stress of thinking about what you have to do next and helps fill in your awkwardly planned meetings. You have 15 minutes in between a meeting, are you going to sit down and start writing a blog or are you going to reply to emails? Priority is one thing, but logical scheduling is another process to succeed at working remotely.
2) Have boundaries with others
It's no secret that working remotely is wonderful for it's flexibility. However, if you live with roommates or loved ones, it can end up being somewhat of a challenge to stay focused. In this case, boundaries must be in place to ensure your day stays as productive as you just planned. It may be difficult for them to understand if they've never worked from home, but you must explain to them that even though you're physically at home, your mind needs to be at work. Yes, you can be flexible with your time, but this needs to be within reason. As you would in a regular office, your work time and space should be respected—by yourself and others. This goes both ways, many who work remotely find it is difficult setting the off button on work. Set these work hour boundaries with you clients and/or coworkers right off the bat. 
3) Create a dedicated work space
If you've been feeling scattered or unfocused while working remotely, it may be because you don't have a dedicated work space. Working in areas like the kitchen table, a busy space used for many functions and often by many people, can be distracting. Even if you live alone, having space strictly dedicated for work can help switch your mind into work mode and allow you to be more focused on the task at hand. Generally, people take on the roles the environment they are surrounded by.  Meaning, if you are working surrounded by things that remind you of home-time and relaxation, you'll have difficulty removing their connotations. By creating a work space for yourself, you're essentially creating a kind of office you can step into and leave your "home life" behind—at least for a little while.
4) Initiate contact with your co-workers
Whether it be daily conference calls or regular in person meetings, keeping in contact with your team is essential to staying motivated while working remotely. It ensures you and your team are on the same page with what needs to be done, and allows time to ask questions or get clarity on a task. It also helps build your company's culture and morale of your co-workers. As social beings, we crave the camaraderie and feeling of togetherness an office setting can often offer. To emulate this in a remote setting applications like Skype, FaceTime, WhatsApp, Slack, DaPulse, as well as other methods of communication like phone calls and text messages, help us stay connected even when we're not physically sitting at a conference table.  
5) Organize your workspace
Keeping the area in which you work organized is crucial when working from home. An organized space, whether it be physical or virtual, should always be as neat and tidy as possible. Even if you have a dedicated workspace, having no organization within it could leave you wanting to head to the clear kitchen table. It can be easy to put off organization in favor of other tasks that seem more important at the time, like sending an email or jumping on a client call. However, taking five or ten minutes at the end of the day to tidy can increase your productivity. Stopping in the middle of your work day to search for a file or document can break your concentration. There will always be obstacles that pop up throughout the day. Being organized prepares you for whatever may come your way.
---
As you continue in your role, you will pick up tips and tricks of your own that help keep you motivated and productive throughout the day. However, these five are a great foundation to lay in your efforts to stay on track. Use them as a jumping off point to experiment and see what works for you. Remember, this will take time to get used to, so be patient with yourself. Once you feel comfortable in it, you won't be able to go back!
Do you have any tips for working remotely? We want to hear them! Comment below.